Alvin Healing Rooms is supported solely by donations. You can help by partnering with us to share this vision of God's heart to heal the sick in our communities. Your giving helps cover operating expenses and supports outreaches.
You can make a single donation of any amount or partner with us through recurring payments. Just check the box. Make changes at any time. If you need assistance, don't hesitate to Contact us!
---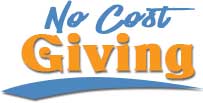 These options allow you to support AHR at no cost to you by simply designating us as the charity you support. Just a few clicks and your regular shopping will direct these companies to send a portion of your purchases to support healing in our community.